Notice
: Uninitialized string offset: 0 in
/home/content/46/8295346/html/dev/wp-content/plugins/mycustomwidget/my_custom_widget_functions.php
on line
769
Notice
: Uninitialized string offset: 0 in
/home/content/46/8295346/html/dev/wp-content/plugins/mycustomwidget/my_custom_widget_functions.php
on line
771
Notice
: Uninitialized string offset: 0 in
/home/content/46/8295346/html/dev/wp-content/plugins/mycustomwidget/my_custom_widget_functions.php
on line
773
Notice
: Uninitialized string offset: 0 in
/home/content/46/8295346/html/dev/wp-content/plugins/mycustomwidget/my_custom_widget_functions.php
on line
775
Notice
: Uninitialized string offset: 0 in
/home/content/46/8295346/html/dev/wp-content/plugins/mycustomwidget/my_custom_widget_functions.php
on line
769
Notice
: Uninitialized string offset: 0 in
/home/content/46/8295346/html/dev/wp-content/plugins/mycustomwidget/my_custom_widget_functions.php
on line
771
Notice
: Uninitialized string offset: 0 in
/home/content/46/8295346/html/dev/wp-content/plugins/mycustomwidget/my_custom_widget_functions.php
on line
773
Notice
: Uninitialized string offset: 0 in
/home/content/46/8295346/html/dev/wp-content/plugins/mycustomwidget/my_custom_widget_functions.php
on line
775
Notice
: Uninitialized string offset: 0 in
/home/content/46/8295346/html/dev/wp-content/plugins/mycustomwidget/my_custom_widget_functions.php
on line
769
Notice
: Uninitialized string offset: 0 in
/home/content/46/8295346/html/dev/wp-content/plugins/mycustomwidget/my_custom_widget_functions.php
on line
771
Notice
: Uninitialized string offset: 0 in
/home/content/46/8295346/html/dev/wp-content/plugins/mycustomwidget/my_custom_widget_functions.php
on line
773
Notice
: Uninitialized string offset: 0 in
/home/content/46/8295346/html/dev/wp-content/plugins/mycustomwidget/my_custom_widget_functions.php
on line
775
Notice
: Uninitialized string offset: 0 in
/home/content/46/8295346/html/dev/wp-content/plugins/mycustomwidget/my_custom_widget_functions.php
on line
769
Notice
: Uninitialized string offset: 0 in
/home/content/46/8295346/html/dev/wp-content/plugins/mycustomwidget/my_custom_widget_functions.php
on line
771
Notice
: Uninitialized string offset: 0 in
/home/content/46/8295346/html/dev/wp-content/plugins/mycustomwidget/my_custom_widget_functions.php
on line
773
Notice
: Uninitialized string offset: 0 in
/home/content/46/8295346/html/dev/wp-content/plugins/mycustomwidget/my_custom_widget_functions.php
on line
775
Notice
: Uninitialized string offset: 0 in
/home/content/46/8295346/html/dev/wp-content/plugins/mycustomwidget/my_custom_widget_functions.php
on line
769
Notice
: Uninitialized string offset: 0 in
/home/content/46/8295346/html/dev/wp-content/plugins/mycustomwidget/my_custom_widget_functions.php
on line
771
Notice
: Uninitialized string offset: 0 in
/home/content/46/8295346/html/dev/wp-content/plugins/mycustomwidget/my_custom_widget_functions.php
on line
773
Notice
: Uninitialized string offset: 0 in
/home/content/46/8295346/html/dev/wp-content/plugins/mycustomwidget/my_custom_widget_functions.php
on line
775
Notice
: Uninitialized string offset: 0 in
/home/content/46/8295346/html/dev/wp-content/plugins/mycustomwidget/my_custom_widget_functions.php
on line
769
Notice
: Uninitialized string offset: 0 in
/home/content/46/8295346/html/dev/wp-content/plugins/mycustomwidget/my_custom_widget_functions.php
on line
771
Notice
: Uninitialized string offset: 0 in
/home/content/46/8295346/html/dev/wp-content/plugins/mycustomwidget/my_custom_widget_functions.php
on line
773
Notice
: Uninitialized string offset: 0 in
/home/content/46/8295346/html/dev/wp-content/plugins/mycustomwidget/my_custom_widget_functions.php
on line
775
Notice
: Uninitialized string offset: 0 in
/home/content/46/8295346/html/dev/wp-content/plugins/mycustomwidget/my_custom_widget_functions.php
on line
769
Notice
: Uninitialized string offset: 0 in
/home/content/46/8295346/html/dev/wp-content/plugins/mycustomwidget/my_custom_widget_functions.php
on line
771
Notice
: Uninitialized string offset: 0 in
/home/content/46/8295346/html/dev/wp-content/plugins/mycustomwidget/my_custom_widget_functions.php
on line
773
Notice
: Uninitialized string offset: 0 in
/home/content/46/8295346/html/dev/wp-content/plugins/mycustomwidget/my_custom_widget_functions.php
on line
775
Notice
: Uninitialized string offset: 0 in
/home/content/46/8295346/html/dev/wp-content/plugins/mycustomwidget/my_custom_widget_functions.php
on line
769
Notice
: Uninitialized string offset: 0 in
/home/content/46/8295346/html/dev/wp-content/plugins/mycustomwidget/my_custom_widget_functions.php
on line
771
Notice
: Uninitialized string offset: 0 in
/home/content/46/8295346/html/dev/wp-content/plugins/mycustomwidget/my_custom_widget_functions.php
on line
773
Notice
: Uninitialized string offset: 0 in
/home/content/46/8295346/html/dev/wp-content/plugins/mycustomwidget/my_custom_widget_functions.php
on line
775
Notice
: Uninitialized string offset: 0 in
/home/content/46/8295346/html/dev/wp-content/plugins/mycustomwidget/my_custom_widget_functions.php
on line
769
Notice
: Uninitialized string offset: 0 in
/home/content/46/8295346/html/dev/wp-content/plugins/mycustomwidget/my_custom_widget_functions.php
on line
771
Notice
: Uninitialized string offset: 0 in
/home/content/46/8295346/html/dev/wp-content/plugins/mycustomwidget/my_custom_widget_functions.php
on line
773
Notice
: Uninitialized string offset: 0 in
/home/content/46/8295346/html/dev/wp-content/plugins/mycustomwidget/my_custom_widget_functions.php
on line
775
Notice
: Uninitialized string offset: 0 in
/home/content/46/8295346/html/dev/wp-content/plugins/mycustomwidget/my_custom_widget_functions.php
on line
769
Notice
: Uninitialized string offset: 0 in
/home/content/46/8295346/html/dev/wp-content/plugins/mycustomwidget/my_custom_widget_functions.php
on line
771
Notice
: Uninitialized string offset: 0 in
/home/content/46/8295346/html/dev/wp-content/plugins/mycustomwidget/my_custom_widget_functions.php
on line
773
Notice
: Uninitialized string offset: 0 in
/home/content/46/8295346/html/dev/wp-content/plugins/mycustomwidget/my_custom_widget_functions.php
on line
775
Notice
: Uninitialized string offset: 0 in
/home/content/46/8295346/html/dev/wp-content/plugins/mycustomwidget/my_custom_widget_functions.php
on line
769
Notice
: Uninitialized string offset: 0 in
/home/content/46/8295346/html/dev/wp-content/plugins/mycustomwidget/my_custom_widget_functions.php
on line
771
Notice
: Uninitialized string offset: 0 in
/home/content/46/8295346/html/dev/wp-content/plugins/mycustomwidget/my_custom_widget_functions.php
on line
773
Notice
: Uninitialized string offset: 0 in
/home/content/46/8295346/html/dev/wp-content/plugins/mycustomwidget/my_custom_widget_functions.php
on line
775
Notice
: Uninitialized string offset: 0 in
/home/content/46/8295346/html/dev/wp-content/plugins/mycustomwidget/my_custom_widget_functions.php
on line
769
Notice
: Uninitialized string offset: 0 in
/home/content/46/8295346/html/dev/wp-content/plugins/mycustomwidget/my_custom_widget_functions.php
on line
771
Notice
: Uninitialized string offset: 0 in
/home/content/46/8295346/html/dev/wp-content/plugins/mycustomwidget/my_custom_widget_functions.php
on line
773
Notice
: Uninitialized string offset: 0 in
/home/content/46/8295346/html/dev/wp-content/plugins/mycustomwidget/my_custom_widget_functions.php
on line
775
Notice
: Undefined variable: fontface in
/home/content/46/8295346/html/dev/wp-content/plugins/related-posts-thumbnails/related-posts-thumbnails.php
on line
334
Notice
: Undefined variable: fontface in
/home/content/46/8295346/html/dev/wp-content/plugins/related-posts-thumbnails/related-posts-thumbnails.php
on line
334
Notice
: Undefined variable: fontface in
/home/content/46/8295346/html/dev/wp-content/plugins/related-posts-thumbnails/related-posts-thumbnails.php
on line
334
Notice
: Undefined variable: fontface in
/home/content/46/8295346/html/dev/wp-content/plugins/related-posts-thumbnails/related-posts-thumbnails.php
on line
334
Your moment has arrived  — the doors swing open, and your guests and your groom get their first glimpse of you as a bride. They "ooh" and "ahh" over your dress, the bouquet and the beaming smile on your face. But the real surprise comes when you walk down the aisle and reveal the gorgeous, dramatic back of your gown — and oh, what a sight it is!

Photo Credit (left to right): Claire Pettibone; Summit Entertainment
We were inspired to search for beautiful backs by the newly married Priscilla Chan-Zuckerberg, who donned an exquisite Claire Pettitbone design. We fell in love with the Carolina Herrera that Kristen Stewart wore inTwilight: Breaking Dawn. And who can forget Hilary Swank's Guy Laroche number at the 2005 Oscars that started this trend in the first place?
In recent years, designers have only become more creative in the many flattering ways that a woman can gracefully show off her back on her wedding day. Here, we have six stunning ideas for brides looking for something unique when it comes to the back of her wedding dress.
1. Backless
"I had no idea brides were so ready to bare it." —Amsale

Photo Credit (left to right): Cosmo Brides; Inbal Dror; Amsale
2. Lace
"Lace is as much about the space between the threads as it is about the threads themselves." —Lori Howe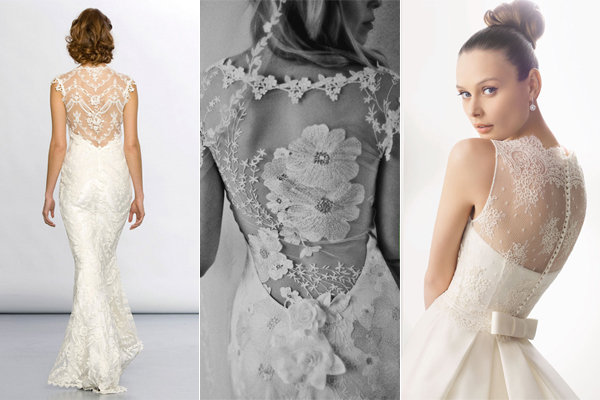 Photo Credits (left to right): Claire Pettibone; Mi Belle Photography (dress by Claire Pettibone); Belle the Magazine
3. Embellished
"I work with couture laces and delicate embroideries, and I am often inspired by antique textiles and fashion history, yet I always feel a gown should look timeless." —Claire Pettibone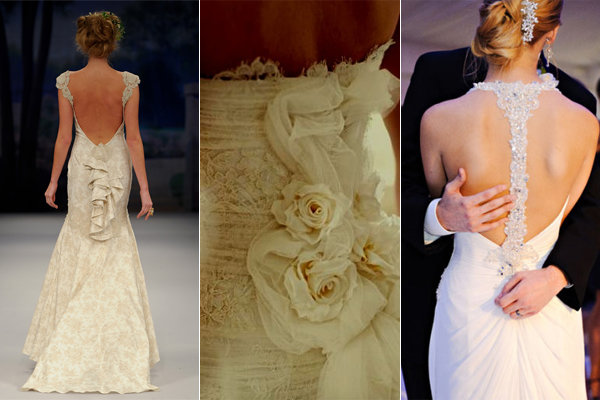 Photo Credits (left to right) Claire Pettibone Provence; Ana Rosa; Corey Ann Photography 
4. Keyhole
Imagine all the complexity of human emotion and expectation at the crossroads of fantasy and reality. Then add considerations of tradition, propriety, sensuality and fashion, and capture all of that in one dress. It isn't easy." — Vera Wang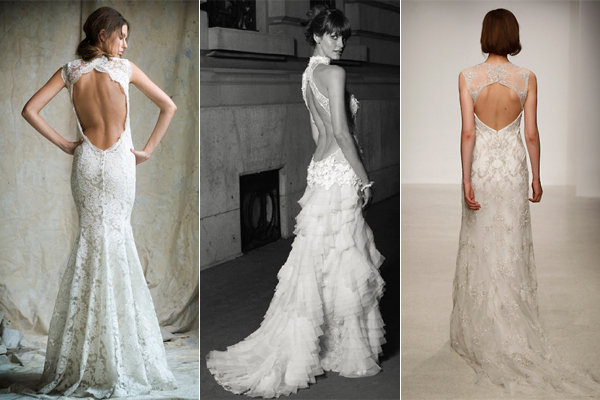 Photo Credits (left to right): Paper Dollybird Blog (dress by Lazaro); Cymbeline; Reem Acra
5. Sheer/Illusion 
"I love designers that really go for it and create something over-the-top…I mean, where it takes weeks to make a dress. It's the pure fantasy of it that's really inspiring to me."  —Claire Pettibone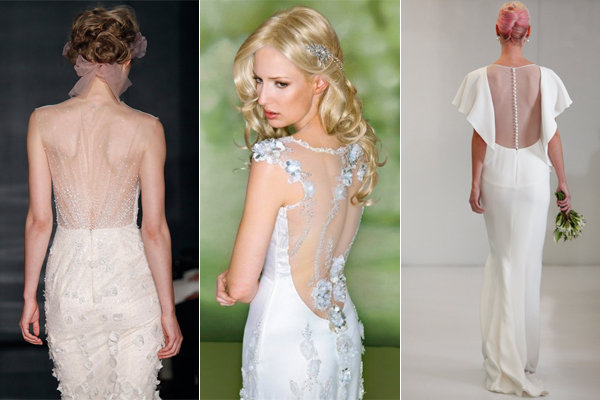 Photo Credits (left to right): Reem Acra; Claire Pettibone; Tom Rauner (dress by Angel Sanchez) 
6. Dramatic Trains 
"I work with structure, but I go outside the box and give it my own spin. I adore the challenge of creating truly modern clothes — where a woman's personality and sense of style are realized." —Vera Wang
Photo Credits (left to right): Elsa by Pronovias; Vera Wang's Spring 2012 collection; Eden Bridal
Related posts: