Notice
: Uninitialized string offset: 0 in
/home/content/46/8295346/html/dev/wp-content/plugins/mycustomwidget/my_custom_widget_functions.php
on line
769
Notice
: Uninitialized string offset: 0 in
/home/content/46/8295346/html/dev/wp-content/plugins/mycustomwidget/my_custom_widget_functions.php
on line
771
Notice
: Uninitialized string offset: 0 in
/home/content/46/8295346/html/dev/wp-content/plugins/mycustomwidget/my_custom_widget_functions.php
on line
773
Notice
: Uninitialized string offset: 0 in
/home/content/46/8295346/html/dev/wp-content/plugins/mycustomwidget/my_custom_widget_functions.php
on line
775
Notice
: Uninitialized string offset: 0 in
/home/content/46/8295346/html/dev/wp-content/plugins/mycustomwidget/my_custom_widget_functions.php
on line
769
Notice
: Uninitialized string offset: 0 in
/home/content/46/8295346/html/dev/wp-content/plugins/mycustomwidget/my_custom_widget_functions.php
on line
771
Notice
: Uninitialized string offset: 0 in
/home/content/46/8295346/html/dev/wp-content/plugins/mycustomwidget/my_custom_widget_functions.php
on line
773
Notice
: Uninitialized string offset: 0 in
/home/content/46/8295346/html/dev/wp-content/plugins/mycustomwidget/my_custom_widget_functions.php
on line
775
Notice
: Uninitialized string offset: 0 in
/home/content/46/8295346/html/dev/wp-content/plugins/mycustomwidget/my_custom_widget_functions.php
on line
769
Notice
: Uninitialized string offset: 0 in
/home/content/46/8295346/html/dev/wp-content/plugins/mycustomwidget/my_custom_widget_functions.php
on line
771
Notice
: Uninitialized string offset: 0 in
/home/content/46/8295346/html/dev/wp-content/plugins/mycustomwidget/my_custom_widget_functions.php
on line
773
Notice
: Uninitialized string offset: 0 in
/home/content/46/8295346/html/dev/wp-content/plugins/mycustomwidget/my_custom_widget_functions.php
on line
775
Notice
: Uninitialized string offset: 0 in
/home/content/46/8295346/html/dev/wp-content/plugins/mycustomwidget/my_custom_widget_functions.php
on line
769
Notice
: Uninitialized string offset: 0 in
/home/content/46/8295346/html/dev/wp-content/plugins/mycustomwidget/my_custom_widget_functions.php
on line
771
Notice
: Uninitialized string offset: 0 in
/home/content/46/8295346/html/dev/wp-content/plugins/mycustomwidget/my_custom_widget_functions.php
on line
773
Notice
: Uninitialized string offset: 0 in
/home/content/46/8295346/html/dev/wp-content/plugins/mycustomwidget/my_custom_widget_functions.php
on line
775
Notice
: Uninitialized string offset: 0 in
/home/content/46/8295346/html/dev/wp-content/plugins/mycustomwidget/my_custom_widget_functions.php
on line
769
Notice
: Uninitialized string offset: 0 in
/home/content/46/8295346/html/dev/wp-content/plugins/mycustomwidget/my_custom_widget_functions.php
on line
771
Notice
: Uninitialized string offset: 0 in
/home/content/46/8295346/html/dev/wp-content/plugins/mycustomwidget/my_custom_widget_functions.php
on line
773
Notice
: Uninitialized string offset: 0 in
/home/content/46/8295346/html/dev/wp-content/plugins/mycustomwidget/my_custom_widget_functions.php
on line
775
Notice
: Uninitialized string offset: 0 in
/home/content/46/8295346/html/dev/wp-content/plugins/mycustomwidget/my_custom_widget_functions.php
on line
769
Notice
: Uninitialized string offset: 0 in
/home/content/46/8295346/html/dev/wp-content/plugins/mycustomwidget/my_custom_widget_functions.php
on line
771
Notice
: Uninitialized string offset: 0 in
/home/content/46/8295346/html/dev/wp-content/plugins/mycustomwidget/my_custom_widget_functions.php
on line
773
Notice
: Uninitialized string offset: 0 in
/home/content/46/8295346/html/dev/wp-content/plugins/mycustomwidget/my_custom_widget_functions.php
on line
775
Notice
: Uninitialized string offset: 0 in
/home/content/46/8295346/html/dev/wp-content/plugins/mycustomwidget/my_custom_widget_functions.php
on line
769
Notice
: Uninitialized string offset: 0 in
/home/content/46/8295346/html/dev/wp-content/plugins/mycustomwidget/my_custom_widget_functions.php
on line
771
Notice
: Uninitialized string offset: 0 in
/home/content/46/8295346/html/dev/wp-content/plugins/mycustomwidget/my_custom_widget_functions.php
on line
773
Notice
: Uninitialized string offset: 0 in
/home/content/46/8295346/html/dev/wp-content/plugins/mycustomwidget/my_custom_widget_functions.php
on line
775
Notice
: Uninitialized string offset: 0 in
/home/content/46/8295346/html/dev/wp-content/plugins/mycustomwidget/my_custom_widget_functions.php
on line
769
Notice
: Uninitialized string offset: 0 in
/home/content/46/8295346/html/dev/wp-content/plugins/mycustomwidget/my_custom_widget_functions.php
on line
771
Notice
: Uninitialized string offset: 0 in
/home/content/46/8295346/html/dev/wp-content/plugins/mycustomwidget/my_custom_widget_functions.php
on line
773
Notice
: Uninitialized string offset: 0 in
/home/content/46/8295346/html/dev/wp-content/plugins/mycustomwidget/my_custom_widget_functions.php
on line
775
Notice
: Uninitialized string offset: 0 in
/home/content/46/8295346/html/dev/wp-content/plugins/mycustomwidget/my_custom_widget_functions.php
on line
769
Notice
: Uninitialized string offset: 0 in
/home/content/46/8295346/html/dev/wp-content/plugins/mycustomwidget/my_custom_widget_functions.php
on line
771
Notice
: Uninitialized string offset: 0 in
/home/content/46/8295346/html/dev/wp-content/plugins/mycustomwidget/my_custom_widget_functions.php
on line
773
Notice
: Uninitialized string offset: 0 in
/home/content/46/8295346/html/dev/wp-content/plugins/mycustomwidget/my_custom_widget_functions.php
on line
775
Notice
: Uninitialized string offset: 0 in
/home/content/46/8295346/html/dev/wp-content/plugins/mycustomwidget/my_custom_widget_functions.php
on line
769
Notice
: Uninitialized string offset: 0 in
/home/content/46/8295346/html/dev/wp-content/plugins/mycustomwidget/my_custom_widget_functions.php
on line
771
Notice
: Uninitialized string offset: 0 in
/home/content/46/8295346/html/dev/wp-content/plugins/mycustomwidget/my_custom_widget_functions.php
on line
773
Notice
: Uninitialized string offset: 0 in
/home/content/46/8295346/html/dev/wp-content/plugins/mycustomwidget/my_custom_widget_functions.php
on line
775
Notice
: Uninitialized string offset: 0 in
/home/content/46/8295346/html/dev/wp-content/plugins/mycustomwidget/my_custom_widget_functions.php
on line
769
Notice
: Uninitialized string offset: 0 in
/home/content/46/8295346/html/dev/wp-content/plugins/mycustomwidget/my_custom_widget_functions.php
on line
771
Notice
: Uninitialized string offset: 0 in
/home/content/46/8295346/html/dev/wp-content/plugins/mycustomwidget/my_custom_widget_functions.php
on line
773
Notice
: Uninitialized string offset: 0 in
/home/content/46/8295346/html/dev/wp-content/plugins/mycustomwidget/my_custom_widget_functions.php
on line
775
Notice
: Uninitialized string offset: 0 in
/home/content/46/8295346/html/dev/wp-content/plugins/mycustomwidget/my_custom_widget_functions.php
on line
769
Notice
: Uninitialized string offset: 0 in
/home/content/46/8295346/html/dev/wp-content/plugins/mycustomwidget/my_custom_widget_functions.php
on line
771
Notice
: Uninitialized string offset: 0 in
/home/content/46/8295346/html/dev/wp-content/plugins/mycustomwidget/my_custom_widget_functions.php
on line
773
Notice
: Uninitialized string offset: 0 in
/home/content/46/8295346/html/dev/wp-content/plugins/mycustomwidget/my_custom_widget_functions.php
on line
775
Notice
: Undefined variable: fontface in
/home/content/46/8295346/html/dev/wp-content/plugins/related-posts-thumbnails/related-posts-thumbnails.php
on line
334
Notice
: Undefined variable: fontface in
/home/content/46/8295346/html/dev/wp-content/plugins/related-posts-thumbnails/related-posts-thumbnails.php
on line
334
Notice
: Undefined variable: fontface in
/home/content/46/8295346/html/dev/wp-content/plugins/related-posts-thumbnails/related-posts-thumbnails.php
on line
334
Notice
: Undefined variable: fontface in
/home/content/46/8295346/html/dev/wp-content/plugins/related-posts-thumbnails/related-posts-thumbnails.php
on line
334
There's nothing sweeter than including your beloved dog or cat in your wedding and today we are paying tribute to our furry friends with pet-related wedding inspiration.
1. To-Die-For Apparel:
Many will argue that dressing your animal up in cute clothes is plain wrong, but on a special occasion like your wedding, how can you resist some of these adorable accessories?
Throwing a formal wedding? Dress your dog in a doggie tuxedo! For a more casual affair, have him wear a preppy bowtie.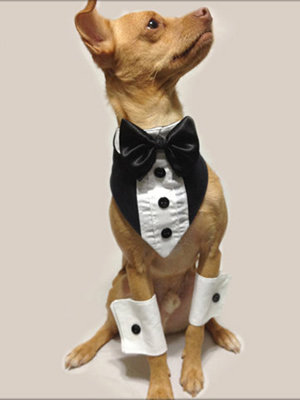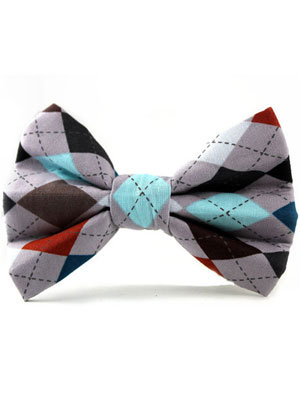 Photo Credit: SewPuppy/Etsy (left); BowWowCouture/Etsy (right)
A mini hat is the perfect fit for a cat. And if you're planning to have your dog walk down the aisle, a tutu to match the bridesmaids' dresses is too cute.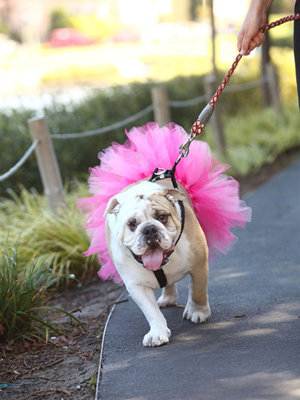 Photo Credit: ToScarboroughFair/Etsy (left); TutuDoll/Etsy (right)
Give your dog's collar a wedding makeover with a customized engraved nameplate.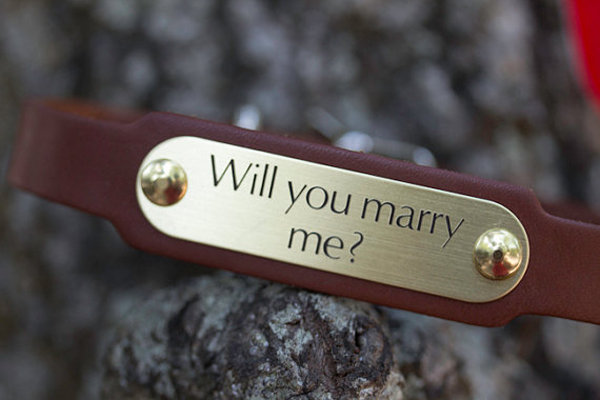 Photo Credit: Dog Gone Nice/Etsy 
And dress up your dog's leash with flowers and pearls.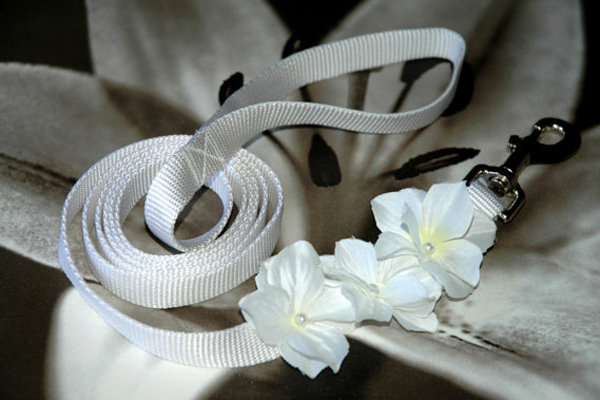 Photo Credit: InspiredbyViolet/Etsy
2. Must-Take Photos:
We think it's an adorable idea to bring your pet into your engagement or wedding photos. Animals bring personality and fun to your photos and it's a great opportunity to get creative and spunky with your portraits.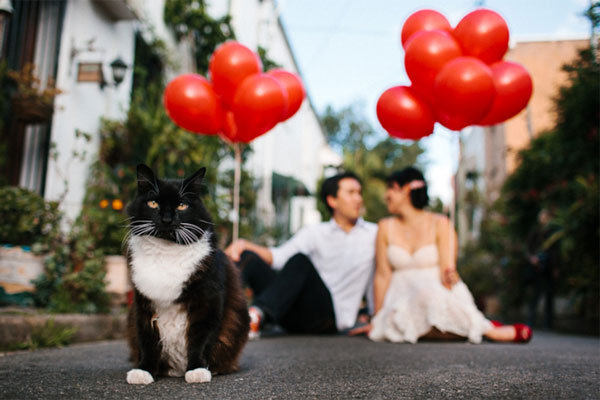 Photo Credit: Hilary Cam Photography
Photo Credit: Dottie Photography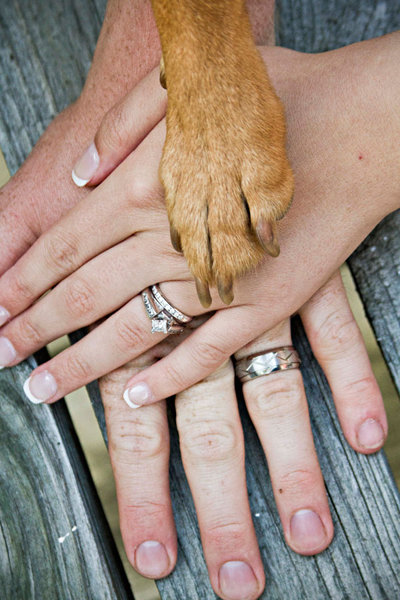 Photo Credit: Gambol Photography (left); Parallel 57 (right)
3. Décor Ideas:
If bringing your pet to your wedding is more trouble than it's worth, consider some pet-themed décor ideas.
Use these adorable coasters during your reception or send them home with your guests as favors.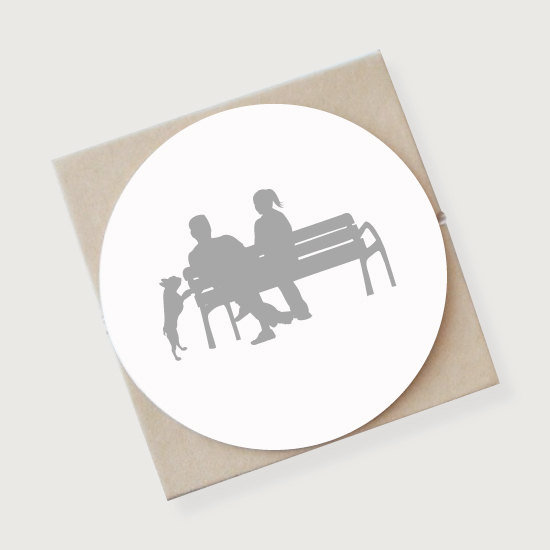 Photo Credit: LePapierStudio/Etsy
Honor your pet with your escort cards or table numbers!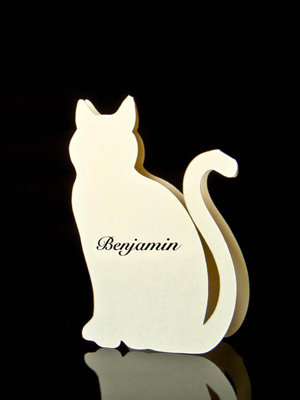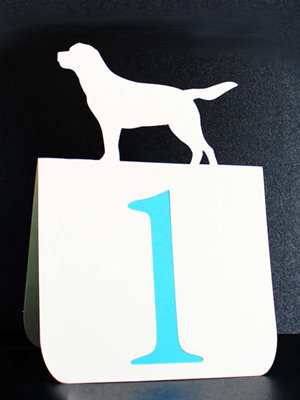 Photo Credit: JonNiPaperGoods/Etsy (left); tiffzippy/Etsy (right)
Attach customized dog tags to your favors.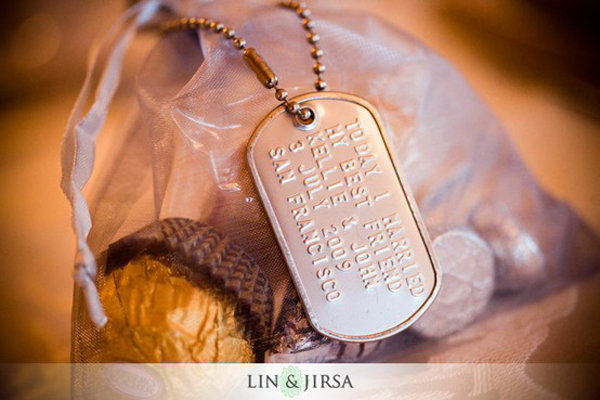 Photo Credit: Lin and Jirsa
Serve up cake pops modeled after your beloved pet!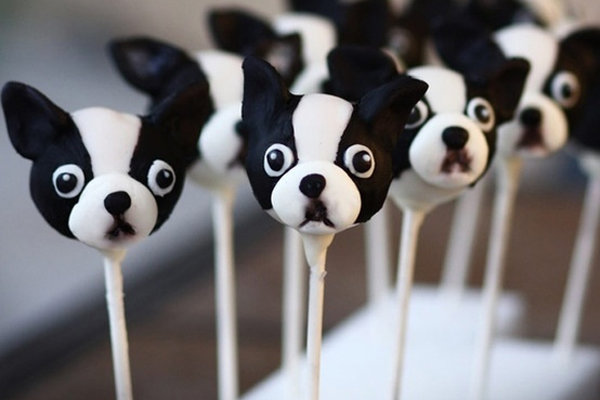 Photo Credit: Bakerella
Tell us: Will you be including a pet in your big day?
Related posts: